Basic Aeronautical Knowledge Certificate Programme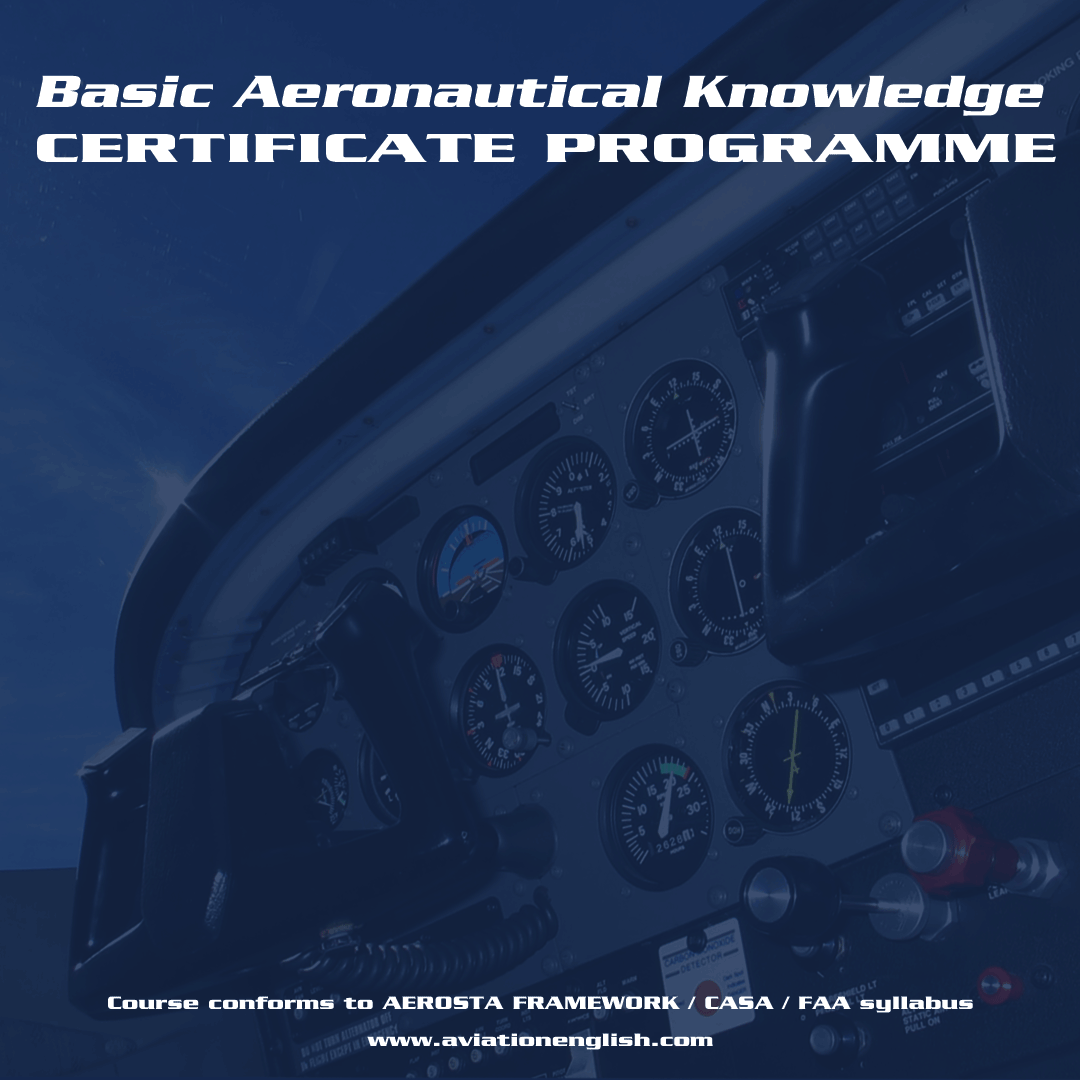 For candidates looking to achieve proficiency in CASA/FAA exams, or just to improve their technical knowledge before applying to an airline, the Basic Aeronautical Knowledge Certificate Programme, is an effective way to demonstrate your knowledge and passion for aviation.
Learn from experienced native English speaking airline pilots every Saturday and Sunday afternoon 1400-1600, attend a teacher led study group 1600-1700 and meet special guests who are former (and current) Aviation English Asia Ltd students, now working as pilots for Cathay Pacific Airways, Cathay Dragon, Hong Kong Airlines and Hong Kong Express.
The course is 100 hours in total and contains 3 modules which can be taken independently.
Module 1
Unit
Subject
Topics include
 
Aircraft Structure

Aircraft classification
Aircraft components
Wing design
Empennage design
Undercarriage design
Brakes
Tyres
Aircraft recognition guide

 
Principles of Flight

Forces in flight
Aerofoil design
Lift and drag

 
Aerodynamics

Angle of attack
Stability
Ceiling
Climbing
Descending
Turning
Range and endurance
Speed margins
Load factor
Turning rate and radius
Advanced topics in aerodynamics

 
Flight Controls

Basic control types
Primary flight controls
Secondary flight controls
Speed brakes and spoilers
Lift augmentation
Primary control effects
Secondary control effects
Advanced control features

 
Powerplant

Propulsion types
Piston engine types
Combustion cycle
Thrust and power augmentation
Engine efficiency
Engine instruments
Engine control
Propellers
Propeller aerodynamics
Jet engine types
Jet engine construction
Intakes
Fan
Compressor
Turbine
Multi spool engines
Exhaust
Reverse thrust
Fuel
Oil

 
Aircraft Systems

Electrical systems
Generators
Alternators
Batteries
Hydraulic systems
Hydraulic fluids
Oil systems 
Fuel systems
Ice protection

 
Flight Instruments

Instrument types
Gyroscopes
Compasses
Pitot and static instruments
Navigation instruments
Angle of attack

 
Aircraft Documentation

Maintenance
Briefings and checklists
Loadsheet
Trimsheet
Weather minima
Assessment
Pass rate of 70% is required before proceeding to the next module.  
Interested in flight training overseas?
There are also opportunities to attend flight training in Australia / USA and obtain a Private Pilot Licence * (approximate cost 65,000 HKD including accommodation)
Course Instructors 
Brendan - Aviation English Teacher / Subject Matter Expert / Airline Pilot
Brendan is a recently retired pilot flying Boeing 777-300ER aircraft for a Hong Kong based airline. He is a former RAF pilot and has flown a wide range of aircraft including the Hawk, Boeing 747 and various high altitude aircraft. He has a lot of experience teaching pilots from ab initio (from the beginning) all the way up to fighter pilots.
Gary - Aviation English Teacher / Subject Matter Expert / Airline Pilot
Gary is a First Officer flying Boeing 747 for a Hong Kong based airline.  He is a qualified Native English teacher.
Philip -  Subject Matter Expert / Airline Pilot
Philip is a Second Officer flying Boeing 777-300ER aircraft for a Hong Kong based airline.  Philip is a recent graduate of FTA winning the academic award with scores of 99%.  
#AviationEnglishAsia #aviationenglish #BasicAeronauticalKnowledge #flighttraining #AviationTheory #GroundSchool #PrivatePilotLicence #CadetPilotProgramme