Basic Aeronautical Knowledge Certificate Programme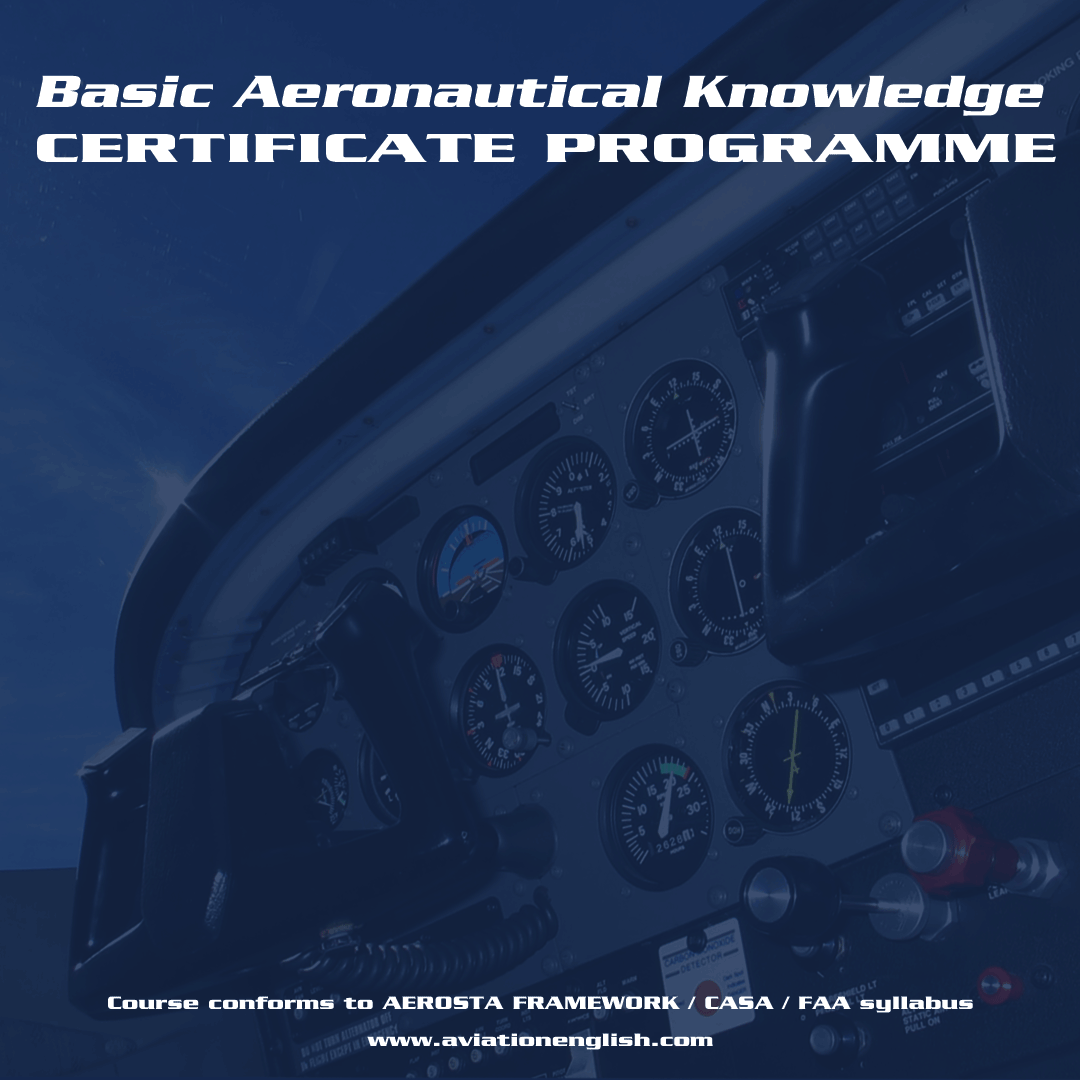 For candidates looking to achieve proficiency in CASA/FAA exams, or just to improve their technical knowledge before applying to an airline, the Basic Aeronautical Knowledge Certificate Programme, is an effective way to demonstrate your knowledge and passion for aviation.
Learn from experienced native English speaking airline pilots every Saturday and Sunday afternoon 1400-1600, attend a teacher led study group 1600-1700 and meet special guests who are former (and current) Aviation English Asia Ltd students, now working as pilots for Cathay Pacific Airways, Cathay Dragon, Hong Kong Airlines and Hong Kong Express.
The course is 100 hours in total and contains 3 modules which can be taken independently.
Module 2
Unit
Subject
Topics include
 
 Weight and Balance
 

Aircraft weight
Aircraft balance

 
 Aircraft Performance
 

Takeoff performance
WAT limits
Runway distances
Balanced field length
Runway alignment
Stopping performance
Performance definitions
Segments
Gross and net
Obstacle clearance
Performance improvement
Engine failure procedures
Speeds
Runway condition
Noise abatement
Tail strike
Landing performance
Go around performance
Enroute performance
Airspeeds
Performance speeds
Stall speeds
Approach segment speeds
Landing speeds
Speeds and effects

 
 Meteorology
 

International standard atmosphere
Temperature
Pressure
Density
Relative humidity and dew point
Levels and pressure
Clouds
Tropopause
Isothermal and inversion
Precipitation
Visibility and runway visual range
Fog and mist
Aircraft icing
Jet streams
Clear air turbulence
Thunderstorms
Microbursts
Mountain waves
Wind
Tri cell theory
Thermal equator
Intertropical convergence zone
Local winds
Tropical revolving storms
Air masses
Pressure systems
Frontal systems

 
 Aviation Weather Services
 

Forecasts and reports
ATIS
Weather radar
Volcanic ash

 
 Airport Operations

Aerodrome categories
Taxiway markings
Airport signs
Runway markings
Approach lighting
Runway lighting
Taxiway lighting
Approach slope guidance
Radio equipment
Radar
Direction finding
Low visibility operations
Minimum altitudes
Departures and arrivals

 
 Airspace



Flight levels
Turning
Navigation requirements
Collision avoidance
Lighting
Radio
Search and rescue
Wake turbulence
Air traffic management
Fuel planning
Crosswinds

 
 Navigation
 

Direction
Maps
Time
Point of no return 
Critical point
Navigation and auto flight systems
Hyperbolic navigation
Satellite navigation
Doppler navigation
Inertial navigation
Polar routes
High latitude flying
Fly by wire
Air data computer
Flight management systems
Auto flight systems
Alert and warning systems
General navigation

 
 Aeromedical Factors

Optical illusions
Physical effects
Aviation medical examinations

 
 Aeronautical Decision Making

Human factors
Information processing
Crew resource management




 
 
 
Assessment
In order to be awarded the Certificate, candidates much achieve at least 70% in the assessment.
Interested in flight training overseas?
There are also opportunities to attend flight training in Australia / USA and obtain a Private Pilot Licence * (approximate cost 65,000 HKD including accommodation)
Course Instructors 
Brendan - Aviation English Teacher / Subject Matter Expert / Airline Pilot
Brendan is a recently retired pilot flying Boeing 777-300ER aircraft for a Hong Kong based airline. He is a former RAF pilot and has flown a wide range of aircraft including the Hawk, Boeing 747 and various high altitude aircraft. He has a lot of experience teaching pilots from ab initio (from the beginning) all the way up to fighter pilots.
Gary - Aviation English Teacher / Subject Matter Expert / Airline Pilot
Gary is a First Officer flying Boeing 747 for a Hong Kong based airline.  He is a qualified Native English teacher.
Philip -  Subject Matter Expert / Airline Pilot
Philip is a Second Officer flying Boeing 777-300ER aircraft for a Hong Kong based airline.  Philip is a recent graduate of FTA winning the academic award with scores of 99%.  
#AviationEnglishAsia #aviationenglish #BasicAeronauticalKnowledge #flighttraining #AviationTheory #GroundSchool #PrivatePilotLicence #CadetPilotProgramme