We had a rather strange question recently.  Someone applying for a cadet pilot programme that had failed asked us if AEA "course content is going to be similar to the real test, like making a cabin announcement because otherwise it would be a waste of time and money".
There are many ICAO English tests, and though they vary in format, the language tasks assessed should be within a range of topics that have been identified in ICAO 9835 as being relevant.  However ICAO does not endorse or approve courses, tests and raters, and some language tasks might not be suitable for ab initio and low hour pilots.  Therefore the Aviation English Organisation was formed by an independent body of linguistic and aviation experts to assess the quality of rating organisations, teachers and courses.  The course and test assessment mechanism is called the AEROSTA Framework.  When you see that a course "conforms to the AEROSTA Framework" that is your guarantee that it is relevant and meaningful to you at your current experience level.
A test can change, and any decent test provider will have a question bank of at least 100 versions, so it's not really a matter of whether a course is focused on the content of a test, it's a matter of whether a test or a course conforms to the AEROSTA Framework and ICAO 9835.
Let's look at some examples of topics which were included in a recent ICAO English test conducted in Hong Kong.  
| | | |
| --- | --- | --- |
| Test content (domains) | Identified in the AEROSTA Framework / ICAO 9835 | Full range of associated language tasks included in Aviation English Asia Ltd courses |
| ATIS | Yes | Yes |
| Decompression | Yes | Yes, but airline procedures not a valid topic for low hour pilots |
| Engine failure | Yes | Yes |
| Lightning strike | Yes | Yes |
| Engine fire | Yes | Yes |
| System failure - unable to capture the localiser, flap extension problems | Yes | Yes |
| Forced landings, including procedures and announcements | Yes | Yes, but airline procedures not a valid topic for low hour pilots |
| Radiotelephony procedures | Yes | Yes |
| Radio call and practice | Yes | Yes |
| ATC communication | Yes | Yes |
You can see that relevant topics are well covered on AVIATION ENGLISH ASIA LTD courses.  In fact, by coincidence all of those topics were offered within the previous 10 days. Cockpit to crew communication is included, as is every relevant communicative function of ICAO 9835.  
it's not what you answer, it's how well you answer
Of course, it's not just a matter of a course conforming - teachers must also surpass minimum requirements and have recognised teaching qualifications too.  
An English test should not be about knowledge, it should be about language proficiency.  AEROSTA based courses include specific activities to improve proficiency in relevant and valid language tasks.  For example, negotiating a level change or giving a visual impression of damage is relevant.  Describing a picture is not relevant.  Comprehension of an ATIS is relevant, comprehension of non-routine situations with strong interference might not be relevant to a student pilot.  The danger is that focusing on the test content could lead the candidate to neglect improving the actual language skills required. A test which rewards candidates for rote memorisation of answers is not valid or reliable, particularly so when test content is beyond the candidate's experience.
The ICAO English test is not necessarily the "real" ICAO test
ICAO tests designed for cadets are often just filters.  It's not fair to assess candidates on operational knowledge beyond their experience.  A pilot should expect to be tested again and again throughout their career.  For example, in a recent internal English test at Flight Training Adelaide 5/11 candidates failed a listening comprehension activity.  Two of those candidates had already scored level 6 in an ICAO English test conducted in Hong Kong.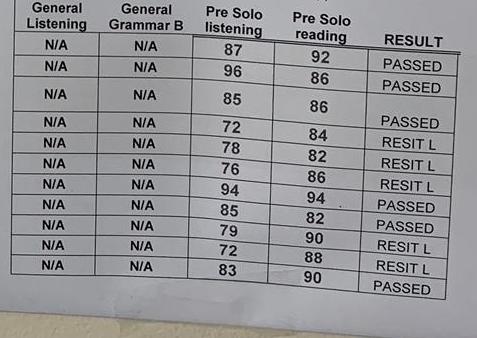 AEROSTA is the guarantee of excellence in Aviation English Teaching
For example a rating organisation which gives unreliable (inconsistent) ratings would not conform, similarly an English teacher who claims to be "ICAO approved" would not conform, and an English course which is only focused on replicating the content of the test without real life application would also not conform.
An Aviation English course which teaches a range of relevant language skills, and improves proficiency within those domains would conform.  Aviation English Asia Ltd is the only training provider in Hong Kong which wholly conforms to the AEROSTA Framework.  AEROSTA based tests and courses are used internally within a number of organisations, including Cathay Pacific Airways and Airport Authority Hong Kong.
Yes, Aviation English Asia Ltd can help you pass the real ICAO test
It is natural that you should want to pass a test, and of course Aviation English Asia Ltd can help with that. But you should be cautious of English teachers who try to manipulate gullible candidates saying that they can teach you to "pass the test" or teach "content similar to the real test".  The truth is that as a training provider to airlines and airports where genuine proficiency is important we see many problems facing high-stakes candidates that were caused by high test scores but low proficiency.  
There are no magic pills for proficiency but I can say that a fair and properly conducted test is not at all difficult to pass.  The vast majority of AEA students do well in tests but there are also factors such as low starting level (they need a longer course), or unreliable testing.  In fact, Aviation English Asia Ltd guarantee that if you follow our recommendations you will pass a test which conforms to the AEROSTA Framework.
#AEROSTA #AviationEnglishAsia