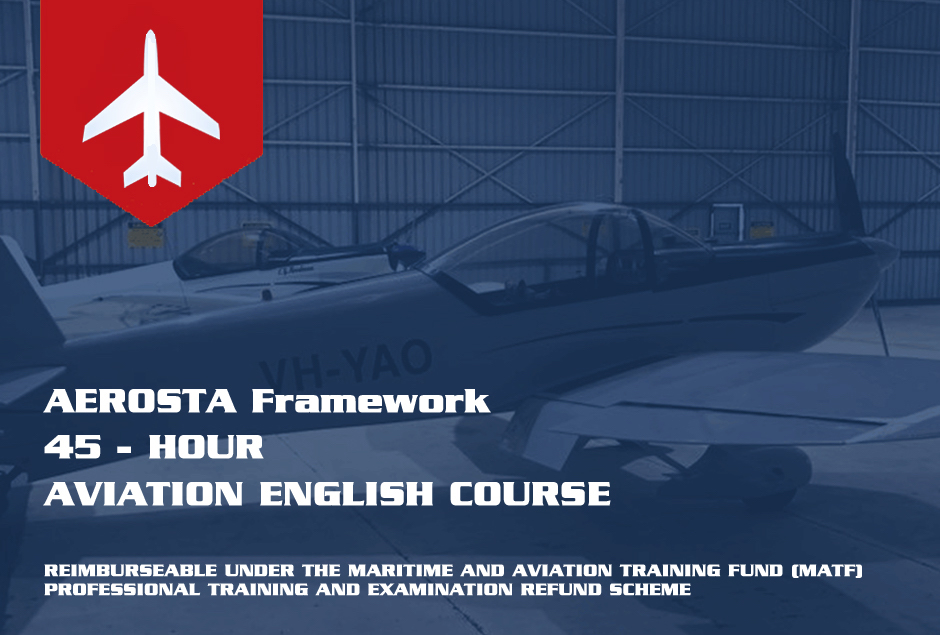 *** SPECIAL OFFER ***
45-hour Aviation English Course
This intensive course is suitable for aspiring pilots and ATCOs who are either aiming to reach ICAO Level 4 or higher or are aiming to consolidate their preparation with qualified and experienced Aviation English teachers.

Course commencement: 07 Jan 2019
Duration: 11 weeks (30 sessions)
Time: Monday, Wednesday and Friday 1930-2100
Date: 
January 07, 09, 11, 14, 16, 18, 21, 23, 25, 28, 30
February 01, 08, 11, 13, 15, 18, 20, 22, 25, 27
March 01, 04, 06, 08, 11, 13, 15

Course venue: Aviation English Asia Ltd
Admission Requirement: Students are required to attend a consultation before enrolling on this course ($250 HKD) which is reimburseable against course fees within 2 weeks. Shorter and longer courses are available.

Fee: HKD $9600 (MATF reimburseable)
A group discount of 10% applies when 4-7 people enrol in the same class together.
A group discount of 20% applies when 8 or more people enrol in the same class together.

Aviation English Asia Ltd's 45-hour Aviation English Course conforms to the AEROSTA Framework and is pre-approved as reimbursable under the HKSAR government Maritime and Aviation Training Fund (MATF) Professional Training and Examination Refund Scheme. Hong Kong residents who are in full-time employment in the aviation sector with an organisation / company in Hong Kong are eligible for a reimbursement of up to $18,000.  (MATF Course code: AC047)


Application deadline: 
Application procedure: Email This email address is being protected from spambots. You need JavaScript enabled to view it. or call +852 81799295 to arrange a consultation.  

Pass a Cadet Pilot Programme ICAO English Test with a Level 4+ rating

If you are applying for an airline's Cadet Pilot Programme one of the most important things that you should prepare for in advance is the ICAO English test. English proficiency is very important in aviation, and not just for the ICAO test.  Many candidates are surprised to find that they lack the English proficiency to perform well in an ICAO test.
Here is the solution: We recommend that you start improving your English with our experienced Aviation English teachers.
Develop a genuine high level of proficiency in a Cadet Pilot Programme ICAO English test
Aviation English Asia Ltd developed the ICAO Aviation English for Cadet Entry Pilots course to help you achieve both success in gaining a cadetship and maintain safety in the air. This course has been taught in Hong Kong since 2009 and has helped hundreds of candidates achieve success in gaining a cadetship. There is no other course provider with AEA's experience, credibility and reputation in Asia.
The only complete English course for Cadet Entry Pilots
ICAO Aviation English for Cadet Entry Pilots is suitable for you if you want to apply for an airline's cadet pilot programme and need to improve your English before proceeding with the application.   It's more effective, more affordable and more enjoyable than other English courses because it gives you intensive practice of the language skills and vocabulary that you need for an aviation career.  If you are as passionate about aviation as our teachers you will love this course.
The communication strategies taught by Aviation English Asia Ltd are based around real life experience of difficulties in radio communication.  With Aviation English Asia Ltd you will learn the language skills needed for a career as a pilot, not just success in an airline's cadet entry ICAO English test.  You will learn unique skills that will give you a massive advantage over other candidates.
Each unit gives you practice of the following skills:
Pronunciation - advanced techniques to improve your pronunciation
Vocabulary - develop a wide aviation, technical and general vocabulary in addition to paraphrasing skills
Structure - improve your grammar with effective drills and activities
Comprehension - listening and reading comprehension - specific to aviation
Fluency - learn how to organise your thoughts and express yourself clearly
Interaction - learn to respond appropriately in both routine and non-routine situations (AEROSTA Framework)
The course will help you improve your grammar, vocabulary, pronunciation, comprehension and fluency, with the added advantage of giving you practice of the language needed for your cadetship. This will help you stay motivated and you will enjoy learning English more because you have a clear objective.  After completing the recommended number of course units you will be well prepared for the ICAO test.
Benefits of the ICAO Aviation English for Cadet Entry Pilots course
You will have better pronunciation - with our unique exercises and drills.
You will be able to use grammar more accurately.
You will develop a wide range of vocabulary for unexpected situations.
You will be able to understand different accents, phrasal verbs, idioms and slang.
You will be able to clearly report and manage non-routine situations.
You will be able to give effective presentations about technical subject matter.
You will be able to write accurate reports about malfunctions and unexpected events.
You will be able to understand radio transmissions by English speakers with unusual accents
You will be able to interact and respond to questions correctly.
You will be able to paraphrase if other people don't recognise your vocabulary or pronunciation.
You will reinforce your technical knowledge - if you think you know everything about aviation, you still need to be able to express it clearly.
You will save money by focusing more on what you need and less on what you don't need.
You will meet and learn from other airline pilots.
We make it easy for you to improve your English
Learning English with us is easy and enjoyable - no other course provider provides the same level of support as Aviation English Asia.
Professional Aviation English Teachers familiar with many different types of ICAO English test
Course conforms to the AEROSTA Framework and ICAO language proficiency requirements
Course content suitable for your experience and proficiency level

Access to our online learning community with

additional

learning materials and resources

Flexible class times (choice of two weekday afternoons or three evening classes each week)
Flexible study schedules (10-100 hours taken over 2-30 weeks)
Flexible options for payment of course fees (pay as you go, every 10 units)
Classes held in a convenient location in Central or Sai Ying Pun
Optional Supplementary Classes for learners who require additional help e.g, Pronunciation, Aviation Theory, Study Group
Learn from Professional Aviation English Teachers, ATCOs & airline pilot instructors
100% Qualified Native English Teachers - previously holding senior positions at major language centres and universities
Teachers are supported by Subject Matter Experts - commercial pilots with major airlines and ATCOs - also qualified Native English Teachers
Teachers are members of the Aviation English Organisation
Teachers are passionate about aviation, and want to see you succeed.
Course designed by a Cambridge examiner / university lecturer with an MA in Applied Linguistics
Course has thousands of hours of development time
On-going support throughout the selection process
ICAO Aviation English for Cadet Entry Pilots is proven to be effective
To date 100% of our students who have completed the recommended number of units have passed the ICAO English test and many have continued to success in the management interview and flight grading.  Students who also take advantage of additional Supplementary Classes tend to achieve their target level faster.  Please note that improving your English takes time.  Therefore we recommend that you start improving your English early.
How much does the ICAO Aviation English for Cadet Entry Pilots course cost?
Course fees depend on a number of factors so it is essential to arrange a consultation before starting a course.  It is very important that you start a course with a realistic idea of your current level, and attend the course giving specific focus to the language skills which you need to improve.  During a consultation we will recommend the best study plan for you, taking into account the time available, your needs and your current level.
Retaking an ICAO English test? We will show you exactly what to do to score ICAO level 4 and above
If you have taken the ICAO test before, Aviation English Asia can give you an independent assessment of your current level.  This is very important as your English ability might have changed since your assessment.
Serious about an aviation career?
Aviation English Asia deliver the highest quality and best value English courses available in Hong Kong.  We are motivated by your success and will support you in your English training needs every step of the way.  If you are serious about aviation you need our courses.
For more information please read the Frequently Asked Questions section here  
Call us on:  +852 8179 9295
or alternatively complete the contact request form to arrange a consultation.
#AviationEnglishAsia #AEROSTAframework#cadetpilot #cadetpilotprogramme #MATF#aviationenglish #ICAOtest #ICAOenglishtest