Quick Tips
Need some quick tips to help you improve your Aviation English? In this section of the website we have combined some quick tips to help you achieve success in an ICAO English test.
Pilots and ATCOs need a solid grasp of English, but don't forget that proficiency in English during routine situations is as equally important as English needed to handle non-routine situations.  This should not only include reading back clearances, flight levels, headings, squawk codes but also communicative functions to trigger actions, share information, manage a pilot-controller relation (including rejecting complaints and reprimands) and manage a pilot controller dialogue.
Aviation English Asia Ltd courses include activities for developing proficiency in both routine and non-routine situations.
For more quick tips please visit: http://aviationenglish.com/learning-zone/quick-tips/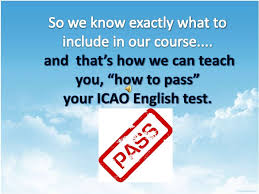 Teaching to the test puts a time-bomb in the cockpit
Hong Kong, much like Taiwan and Thailand is affected by a phenomenon known as bu xi bans.  This translates from mandarin as "cram school".  It's basically where a school targets candidates preparing for exams.  They offer "crash courses" which means that you will complete a course but make lots of mistakes. Cram schools compete on price and to cut costs employ backpacking English teachers, usually without a teaching certificate.  The result is students who barely speak english and have mediocre exam scores.  They focus on passing the test but not on building genuine language proficiency.  These cram schools are just interested in getting your money.  You might think that it's ok because you can pass the test and learn English later, but any decent airline will detect your problem and ground you from flying for at least 2 months.
Unfortunately we have seen a few schools trying to copy Aviation English Asia Ltd recently - even copying names like "unit" and "workshop" and large parts of the text on our website, but they make a fatal mistake - they try to cram information into 4 hour classes.  Some of them even try to copy our company name or give themselves made up job titles like "aviation communications specialist", "learning facilitator" or "ICAO approved examiner". These job titles actually mean "unqualified English teacher", and for the record there is no such thing as an "ICAO approved examiner".  ICAO do not approve examiners.
Aviation English Asia Ltd is the only genuine provider of Aviation English is Hong Kong.  We have offered full time courses in Hong Kong since 2009.  We are also a founder member of the Aviation English Organisation and contributed to the Aviation English Rating Organisation, Syllabus and Teacher Assessment Framework, which is your guarantee of quality.
For more quick tips please visit: http://aviationenglish.com/learning-zone/quick-tips/
Aviation English Radio
Aviation English Asia Ltd provides a number of free resources for you to improve your English in your free time.  In 2017 we launched Aviation English Radio, an online student radio station streaming 24/7 each day of the year.  Since then we have had great feedback from learners all over the world who tune in and listen simultaneously to Aviation English Radio.  
Every time you tune in you will be able to listen to carefully graded audio to help prepare for your ICAO test, learn aviation theory (Basic Aeronautical Knowledge), principles of Air Traffic Control, ICAO English test questions, technical interview questions, hear student experiences and get hints and tips to improve your English proficiency.  
We are sure that if you enrol in a course with Aviation English Asia Ltd and listen to the programmes on Aviation English Radio you will make a rapid improvement in both your knowledge and your English proficiency.
Join Aviation English Asia's worldwide learning community.  You can tune in here - http://aviationenglish.com/aviation-english-radio and don't forget to share to your friends too.
For more quick tips please visit: http://aviationenglish.com/learning-zone/quick-tips/

If you are an airline, or airport employee based in Hong Kong - you could benefit from the government's Maritime and Aviation Training Fund, which allows candidates to reimburse 80% of course fees up to a maximum limit of $18,000 HKD.
This means that whatever your role, the fund supports mobility between occupations so you may be eligible for our ICAO Aviation English courses, even if you are not currently in that role.  However the time available for the fund is limited, so don't delay.  It is always better to start training with AEA as soon as possible.  For more details, just call us on +852 81799295 and we can advise you on your eligibility.
For more quick tips please visit: http://aviationenglish.com/learning-zone/quick-tips/