Learning Advice
English learning advice from Aviation English Asia. Article written by Michael McBride In this article I am going to focus on a typical ICAO recommended Aviation English test, with emphasis mainly on Level 4 operational standard.  Of course, airlines have implemented the ICAO guidelines in different ways and each test is different but the aims are the same.  We will examine the different requirements from ICAO, the typical structure of the test and you will be able to practise with some exercises.  It is important to know what you will eventually face when training so you have a target and it can help focus on your strengths and weaknesses.
ICAO Level 4 requirements – an overview
Pronunciation – You will not be expected to 'sound like a native (English) speaker' but your local accent/dialect must only "sometimes interfere with ease of understanding", the core sounds of words should most of the time be clear.
Structure – You should demonstrate at least basic English grammar (verbs, word order etc) competency without making mistakes, but for "unusual circumstances" small errors can be made, but it must be understandable to overall meaning.
Vocabulary – Ability to communicate in Aviation context, if in doubt of words you must be able to "paraphrase successfully" using communication strategies e.g. "container for animals" instead of "cage."
Fluency – Good speed of communication should be made, although when changing from phraseology to plain English there may on small occasions be a pause or a small mistake made.  "Fillers are not distracting", which means words like "you know" and "like" do not interrupt flow of interaction.
Comprehension – You should for the most part understand what is spoken to you and then for you to respond or take action.  However, if there is a non-routine situation you should be able to get around it by a system of checking, confirming and clarifying.
Interactions – There should be "immediate and informative" interaction between yourself and pilot/controller, you must never stop communicating in any type of interaction (routine or non-routine).  If there are "misunderstandings", you must be aware of this and check, confirm and clarify.
ICAO 9835 Document
ICAO English Test introduction
A typical Aviation English test is usually around 35 minutes, your assessor will be a subject matter expert in the aviation industry and the test is communicative.  This means that you will not be expected to write a report/essay or complete a reading assessment.  Reading and writing are still important but are not the main skills assessed here. You will be assessed on your ability to use both phraseology and plain English to describe and analyse both routine and non-routine situations.  Your training at Aviation English Asia will focus on listening and speaking rather than a lot of reading and writing. Test format Your test may include the following components: -
Picture description
2 role plays, enroute or during taxi, for example
Writing brief but relevant notes on paper, maybe ATIS or landing instructions
Picture description You will most likely be given a number of pictures to describe and analyse.  You will have to say what it is and/or what is happening, but it is not enough to just list different things.  You must also look at why the main element of the picture happened, what happened before, what will happen next?  Having some knowledge of future and past verb forms would be key here.  It is your chance to show off any extra language skills you may have without major time constraints that you would face in a flight deck role-play. Role plays You usually will have two video role-plays to work through, testing your ability to change from routine to non-routine communication.  Something will happen to test you, usually two things.  An example may be animals walking over the taxiway before takeoff.  You will be listening to multiple transmissions, for example chatter, ATC/pilots but the key is something will be non-routine.  You will be expected to make notes quickly about what unusual or unexpected event you hear, which you will then report about and answer questions. Practice Tasks 1.  Click on the following link and practise standard phraseology and prepare checklists for gate arrival.  Then anticipate what potential problems could occur on paper, what action and communication would you take? Taxi to gate (swedflyer – credit) http://www.youtube.com/watch?v=duTAXcCRj2g 2.  How would you communicate the following problem, can you use standard phraseology only, or would plain English also play a part?  Again, anticipate another problem, maybe the cockpit window smashes or something enters the runway.  What action would you take and what would you say to the controller/pilot? Engine fire on landing short (kukovrein- credit) http://www.youtube.com/watch?v=M88XrxmtS6s
What to do next
For feedback and more information about Aviation English Asia's courses please visit http://aviationenglish.com. If you haven't already please join the Aviation English mailing list for instant access to free demonstration units of the ICAO Aviation English Online course, special offers and details of courses in your area.
English learning advice from Aviation English Asia. Article written by Michael McBride In this article I will focus on the context of the ICAO recommended English language requirements. In other words, why have ICAO shown so much interest in English language proficiency.  We will also look at various examples showing poor English skills that contributed to aviation incidents/accidents and then a quick look at what ICAO expects from you.
Do you know why you are here?
These should be fairly simple questions for you: Why are you in English language training? Who are you and what do you want to achieve? It goes without question that you should be here for the fundamental reason of preventing injury or even death in the sky or on the ground with intelligible and effective English skills. Despite some airlines having their own Aviation English tests, as do some language academies, the common goal is to make sure pilots/controllers can communicate effectively in routine and non-routine situations.  Obviously a lack of English awareness could lead to an aviation incident or accident.
Generally, an aviation incident is an event that results in injury or damage to people/aircraft or at least is a cause for concern eg. a near-miss.
An accident usually means resulting fatalities from an aviation related event
Specific incidents/accidents showing lack of English communication
We will now look briefly at some aviation incidents/accidents, be aware that a lack of English skills was one factor in the problems that occurred.
Heathrow LOT 282 incident (2007).
This incident is a recent example used by Aviation English instructors to show that a clear and effective use of English could resolve an issue quickly.  From AAIB (2008) reports we are informed that the aircraft had navigational aid problems and pilots showed poor situational awareness, but also the responses by the crew to the English speaking ATC were practically unintelligible.  Good communication would not have escalated the chain of problems and the crew showed a lack of even basic English competency, for example the commander reported position as "330" instead of the actual "030".  This could have been fatal but thankfully the aircraft eventually landed safely and was a recent 'wake up' call for all ICAO level 6 and lower Aviation personnel. Please study the AAIB report here
New York Avianca 52 accident (1990)
This accident highlighted the problem of unsuitable AE lexis/vocabulary in alerting ATC of on-board problems.  Not far from Kennedy International flight deck problems resulted in a command for "priority landing" rather than a much better "emergency" command given the seriousness of their situation.  The captain and co-pilot did not 'agree' with the English commands, in other words there was little understanding in plain and phraseology English between them.  One thought "emergency" was stated, rather than the less critical "priority landing."  Was there a Spanish-English translation issue here? Was it a lack of confidence and competency in English communication? For a transcript of the communication before this tragedy resulted please click here
ICAO outcomes and recommendations
The International Civil Aviation Organisation (ICAO) is the general authority in aviation, underneath their position of authority are national regulators, with international organisations, such as JAA and Eurocontrol feeding expertise and recommended practices into the national regulators and ICAO.  The ICAO English requirements (level 4 etc) that you are studying for affect private pilots, commercial pilots, helicopter pilots and air traffic controllers.
Implementation of ICAO recommended requirements for English Proficiency were originally set for 2008, but after this being unrealistic the date was changed to March 5th, 2011.  This is the date you must target for level 4 proficiency. The overview of English proficiency as stated by ICAO is as follows: - "The English Language shall be available on request from any aircraft station on the ground or in the air." Which means you must have the capability to respond in English even if in your 'local' airspace. "Clarify that both phraseology and plain English proficiency are required" As has been stated clearly in previous articles, you must be generally and on the whole effective in communicating phraseology and unexpected events, which may require plain/general English. ICAO Language Proficiency Requirements (September 2004) 9835 Document is seen in AE teaching as the guide to getting you at your required level of operation.  The articles I have written take information from this master document.
Conclusion
ICAO gave a series of recommendations after the Avianca accident, for example, including setting a fixed language of terms.  (ICAO, 1991)  It must be clear that  ICAO gives recommendations, not accreditation of assessment. Targeting the level you require is your first step with AE instruction, once you have obtained this after being tested by your airline or academy your English skills will become a long-term component of your career, with testing every 3 years if under ICAO level 6. Your instructor at Aviation English Asia will guide you through the ICAO recommended practices in your course.  Remember you are interested in being intelligible, effective communicators for the majority of the time in both routine and unpredictable situations, using fixed phraseology and also plain English when required.  It should remain one very important part of your aviation career.
Quiz
What is the difference between an incident and an accident?
Must you speak English all the time on the radio?
What basic English problems caused the Heathrow LOT 282 incident to be in the news?
What, in your opinion, are the key words that describe ICAO level 4?
How will you be tested?
Evaluate your next step, what are the most important reasons for your training?
What to do next
For feedback and more information about Aviation English Asia's courses please visit http://aviationenglish.com. If you haven't already please join the Aviation English mailing list for instant access to free demonstration units of the ICAO Aviation English Online course, special offers and details of courses in your area.
English learning advice from Aviation English Asia. Article written by Michael Egerton
In this article I'm going to show you how you can improve your ability to paraphrase.  Paraphrasing is the ability to express someone else's ideas in your own words.  It is an essential skill for pilots and controllers, as there may be times when you need to communicate with other non-native speakers who don't know (or can't recognise) the words that you are trying to use. Therefore you should improve not just your own vocabulary, but learn how to communicate information clearly using other words and structures. 
It's an effective way of checking, confirming and clarifying information.  Communication strategies like this will contribute to making aviation safer.
Paraphrasing requires several skills:
Good listening comprehension
the ability to understand the main points of a message
the ability to understand  why the speaker/writer expressed himself this way
the ability to express the same ideas in more concise terms without changing the meaning
This means that you need to develop the ability to use the context to understand the new vocabulary that you hear, while ignoring the parts that are not relevant to the main points. Pay attention to key words/phrases, tense and factual information. You can practice paraphrasing/summarising by picking out the key words/phrases in the text and expressing the way they are related to each other.
Practice paraphrasing while reading
In aviation you will probably be more concerned with improving your listening rather than reading, but nevertheless you can improve your paraphrasing skills by reading a varied range of text. When you read an article first skim read it to understand what the article is about and what the writer is trying to say.  You should be able to guess the meaning of words that you don't know from the context.  Then consider:
What are the main points?
What is the key information?
What information is not useful?
What questions does the article answer or raise?
You can then change the structure of the article to be clearer and easier to understand.  If there are uncommon words you can describe them using different words.  If the word represents something physical, eg a foreign object left on the runway, you can consider it's shape, size and dimensions or even the material it is made of.  If the word represents something abstract eg "aerodynamics", consider the situations in which the idea occurs.
Exercise:
Paraphrase the following passage:
As mankind advanced further and further, throughout history there were lots of trials and designs for flying machines.    In order to establish flying, mankind looked at the only available example of flying: namely birds.  Thus, everyone was trying to copy the designs of the birds to design a flying machine that paralleled their development: The Ornithopter.  In essence, an ornithopter was a machine that had birdlike wings and a place for the operator to be attached.  The operator would flap his arms and the wings of the ornithopter would be flapped also.  In essence, mankind would fly by simulating the flapping of the bird's wings.  However, since the principles of aerodynamics were not yet discovered, no one was aware of the ratio of the wing to muscle power and thus all of these projects and attempts were doomed to fail. It should be easy to state the important information within a few sentences.  It's easy to see which information can be discarded.
Exercise:
Explain what an ornihopter is without using the word "birds".
Explain why ornihopters were not successful without using the words "aerodynamics", "flapping" or "power".
Practice paraphrasing in aviation
Watch the following video. https://youtu.be/-3yPm_guBFM
Do you think that the controllers were surprised to hear of that object on the taxiway?
How do you think it got there?
What other words sound similar or could easily be misheard?
How would you describe that object if you weren't able to communicate clearly on the radio due to interference?
What to do next
For feedback and more information about Aviation English Asia's courses please visit http://aviationenglish.com. If you haven't already please join the Aviation English mailing list for special offers and details of courses in your area.
English learning advice from Aviation English Asia. Article written by Michael Egerton
In this article you are going to learn techniques to describe pictures in ICAO English tests.  As mentioned in a previous article, The ICAO English test - guidance and advice, describing a picture is a common part of many ICAO English tests.
What language skills are required?
Quite often the pictures will be of unusual or unexpected events such as damage to an aircraft, a crash/collision or a malfunctioning piece of the aircraft's equipment.  You will need to develop your vocabulary so that you can easily explain these situations without being lost for words.  As a pilot or controller you will need vocabulary to describe
each part of an aircraft,
weather and time of day,
the physical layout of an airfield and
various types of damage that can occur.
You will also need a good command of verb tenses so that you can describe:
what is happening now
what has happened before
what is likely to happen in the future
You should also learn the language skills needed to explain why these events have occurred.  This will involve (among others) modal verbs of possibility/probability, conjunctions and infinitives of purpose. You should also use prepositions to describe the physical location, or path of movement of the various objects in the picture.
Phrases for describing pictures
Start by giving a brief description of each picture.
The incident involves ...
This is a ...
I can see ...
This is an incident that happened ...
There are different phrases you can refer to parts of each pictures. For example:
on the left / on the right (hand side)
in the background / in the foreground
behind  x / in front of x
Depending on the picture you will need to use appropriate tenses.  For example:
an aircraft is trying to land (present continuous because it is something happening at the moment the photo was taken)
the aircraft in this picture has collided with a ground vehicle (present perfect because it is something that happened in the recent past with a result in the present)
a ground vehicle is about to make a wrong turn that will surely cause a problem for aircraft that are landing.
The assessor might also ask you to give your opinion about the picture.
In my opinion ...
I think that ...
It looks like ...
x seems to be ...
Exercise
Take a look at the following picture for 30 seconds.
Describe it in as much detail as possible for 90 seconds
Explain how you think the situation occurred for 30 seconds.
Post your description as a comment.  We will review it and give you feedback.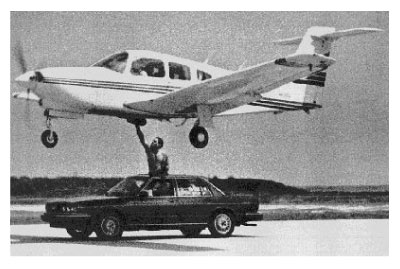 Five tips for describing pictures in the ICAO English test
1.  Keep it simple Try to avoid complicated expressions or grammatical structures if you are not sure how to use them.   Don't waffle (speak unnecessarily about a topic), and if you have nothing to say it's better to wait for the assessor to prompt you.
2.  Ask the assessor for an explanation if you don't understand the task If you don't understand what you are supposed to do, ask the assessor to explain. For example, you could say:
Could you repeat the question, please?
I'm sorry, could you explain what the word .... means ?
Could you please ask the question in another way?
3.  Use full sentences Avoid answers which are single words or answers that sound like a list of bullet points.  Demonstrate that you know how to form sentences correctly  and can use a range of structures to express yourself.
4.  Be aware of the time limits When you are asked to describe a photo and explain why something has happened, make sure that you leave some time for explaining your own opinion if that is a required part of the task.  You should also avoid rushing, as speaking slowly and clearly is an essential skill in aeronautical communications.  You will have better pronunciation if you slow down and don't swallow your words.
5.  Practice Before the ICAO English test, practice describing pictures with a colleague (if you already know someone who will also be taking the speaking test, ask him/her to practice with you).  Students at Aviation English Asia are a friendly bunch who really make the effort to help each other.  Of course, all our English courses for ICAO compliance offer thorough practice of these skills in each unit.
What to do next
For feedback and more information about Aviation English Asia's courses please visit http://aviationenglish.com. We can help you improve your English whether you are an experienced pilot, a cadet entry pilot, a controller, engineer or flight attendant, with custom courses designed specifically for your needs.  If you haven't already please join the Aviation English mailing list for special offers and details of courses in your area.