Aviation Vocabulary
An aerodrome is a location from which aircraft flight operations take place, regardless of whether they involve air cargo, passengers, or neither. Aerodromes include small general aviation airfields, large commercial airports, and military airbases.
The term airport may imply a certain stature (having satisfied certain certification criteria or regulatory requirements) that not all aerodromes may have achieved. This means that all airports are aerodromes, but not all aerodromes are airports. Usage of the term "aerodrome" remains more common in the UK, Ireland and Commonwealth nations
According to the International Civil Aviation Organization (ICAO) an aerodrome is "A defined area on land or water (including any buildings, installations, and equipment) intended to be used either wholly or in part for the arrival, departure, and surface movement of aircraft."
Etymology
The word aerodrome derives from Ancient Greek ἀήρ (aḗr), air, and δρόμος (drómos), road or course, literally meaning air course. An ancient linguistic parallel is hippodrome (a stadium for horse racing and chariot racing), derived from ἵππος (híppos), horse, and δρόμος (drómos), course. A modern linguistic parallel is velodrome, an arena for velocipedes. Αεροδρόμιο is the word for airport in Modern Greek, which transliterates as aerodromio.
In British military usage, the Royal Flying Corps in the First World War and the Royal Air Force in the First and Second World Wars used the term—it had the advantage that their French allies, on whose soil they were often based and with whom they co-operated, used the cognate term aérodrome.
In Canada and Australia aerodrome is a legal term for any area of land or water used for aircraft operation, regardless of facilities. International Civil Aviation Organization (ICAO) documents use the term aerodrome, for example, in the Annex to the ICAO Convention about aerodromes, their physical characteristics, and their operation. However, the terms airfield or airport mostly superseded use of aerodrome after World War II, in colloquial language.
History of aerodromes
In the early days of aviation, when there were no paved runways and all landing fields were grass, a typical airfield might permit takeoffs and landings in only a couple of directions, much like today's airports, whereas an aerodrome was distinguished, by virtue of its much greater size, by its ability to handle landings and take offs in any direction. The ability to always take off and land directly into the wind, regardless of the wind's direction, was an important advantage in the earliest days of aviation when an airplane's performance in a crosswind takeoff or landing might be poor or even dangerous. The development of differential braking in aircraft, improved aircraft performance, utilization of paved runways, and the fact that a circular aerodrome required much more space than did the "L" or triangle shaped airfield, eventually made the early aerodromes obsolete. The city of the first aerodrome in the world is a French commune named Viry-Chatillon.
For more aviation vocabulary visit http://aviationenglish.com/learning-zone/aviation-vocabulary/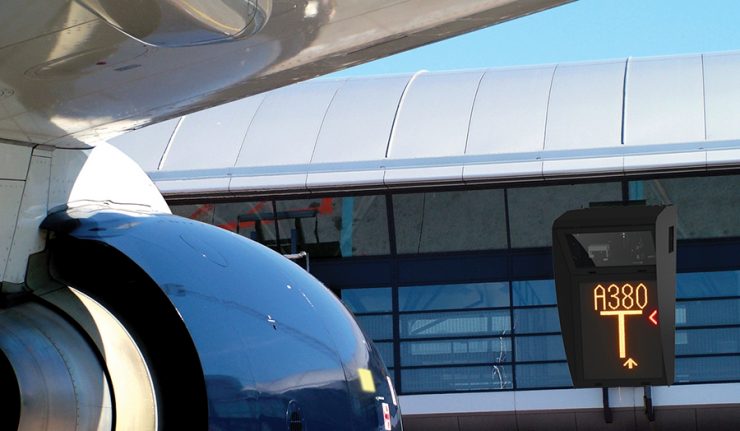 Advanced Visual Docking Guidance System - for the Nose-in Guidance System or PAPA (Parallel Aircraft Parking Aid).
Automatic terminal information service, or ATIS, is a continuous broadcast of recorded aeronautical information in busier terminal areas, i.e. airports and their immediate surroundings. ATIS broadcasts contain essential information, such as current weather information, active runways, available approaches, and any other information required by the pilots, such as important NOTAMs. Pilots usually listen to an available ATIS broadcast before contacting the local control unit, which reduces the controllers' workload and relieves frequency congestion.
The recording is updated in fixed intervals or when there is a significant change in the information, e.g. a change in the active runway. It is given a letter designation (e.g. bravo) from the ICAO spelling alphabet. The letter progresses through the alphabet with every update and starts at alpha after a break in service of 12 hours or more. When contacting the local control unit, pilots indicate their information <letter>, where <letter> is the ATIS identification letter of the ATIS transmission the pilot received.
The pilot listens to the ATIS just prior initial contact and notes the code letter; on check-in, the pilot reports the code letter of the ATIS copied. This enables the controller to confirm that the pilot has copied the current ATIS. Normal practice is for the controller to up-date the pilot if the ATIS or any element of it subsequently changes materially.
Many airports also employ the use of Data-link ATIS (D-ATIS). D-ATIS is a text-based, digitally transmitted version of the ATIS audio broadcast. It is accessed via a datalink service such as the ACARS and displayed on an electronic display in the aircraft. D-ATIS is incorporated on the aircraft as part of its electronic system, such as an EFB or an FMS. D-ATIS may be incorporated into the core ATIS system, or be realized as a separate system with a data interface between voice ATIS and D-ATIS.
Hong Kong
Aviation English Asia has been offering part time and full time courses in Hong Kong since 2009.
All courses are available in Hong Kong. Check the schedule above for details.
Vietnam
Aviation English Asia has been offering part time courses in Vietnam since 2014.
All courses are available in Vietnam - typically every 8 weeks, or by special arrangement.
Taiwan
ICAO Aviation English, English for Aircraft Maintenance Engineers, Technicians and Mechanics, and English for Flight Attendants are available in Taipei, Tainan and Kaosiung.
Cambodia
Aviation English Asia has been offering part time and full time courses in Cambodia since July 2018
All courses are available in Phnom Penh and Siem Reap. Check the schedule for details.

Member of the Aviation English Organisation