Incident Reports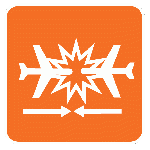 This category contains articles on particular Accidents and Incidents. The severity of the actual outcome is not the primary qualification for inclusion. Instead, each event has been included because the investigation findings were considered to be illustrative of safety issues which it would be especially useful to make more widely available. The information contained in each summary article on an individual accident or incident is derived from the published Official Investigation Reports. Content in this category comes from Skybrary, ICAO and wikipedia among other sources and is used with permission.
AGC = Air Ground Communications (including Call Sign Confusion), AI = Airspace Infringement, AW = Airworthiness, BS = Bird Strike, CFIT = Controlled Flight into Terrain, FIRE = Fire (includes post crash fore and non fire source fumes), GND = Ground Operations, HF = Human Factors, LB = Level Bust, LOC= Loss of Control, LOS = Loss of Separation, RE = Runway Excursion, RI = Runway Incursion, WAKE = Wake Turbulence, WX = Weather.
Description: This video takes a look at the benefits of angle of attack indicators, and how they provide pilots a visual reference on how close their wings are to stalling.
Fly along with the Air Safety Institute's "iPanel" Pilot Safety Announcement (PSA), which takes a decidedly tongue-in-cheek look at the modern electronic cockpit's endless opportunities for distraction.

Datalink weather ranks as one of GA's great technological advances. But clear information about datalink service options can be hard to find, and there's sometimes confusion about the 2020 ADS-B mandate (which does not require pilots to use ADS-B In/FIS-B weather). This video takes a detailed look at the two providers—SiriusXM and ADS-B In/FIS-B—comparing modes of delivery, weather products, and other pros and cons to help pilots of all aircraft types decide which best fits their needs.